Florida Boating
Boating Safety Education Requirements
How to Register Your Boat in Florida
How Old Do You Have To Be To Drive a Boat in Florida?
Minimum Equipment Requirements
The Florida Marine Patrol is now Florida Fish and Wildlife Commission (FWC). Phone: 850-488-4676. For a list of regional offices and phone numbers, visit our Boating Safety page.
Florida's Waters
Florida has over 8,000 miles of coastline and 4,500 square miles of inland waterways, making it a paradise for boaters! From mega-yachts to wooden skiffs, having a boat is as normal as having a car for some Floridians.
Also known as "the ditch," the Intracoastal Waterway (ICW) is a natural but dredged channel that extends 500 miles down the east coast of Florida to the tip of the Keys. It's a very popular boating route that runs through rivers, creeks and dredged canals. It is maintained by the Florida Inland Navigation District.

The 135-mile Okeechobee Waterway, which cuts through the state, is another popular boating route, especially during the summer. It runs along the St. Lucie Canal from Stuart, across Lake Okeechobee and then on to Sanibel Island via the Caloosahatchee River.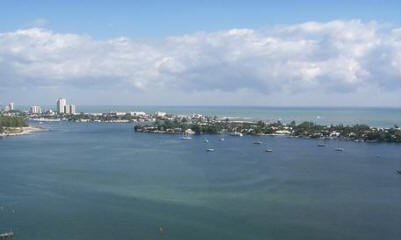 Anchoring Restrictions
New Florida Law Eases Anchorage Restrictions
Boaters cruising Florida waters may find it easier to anchor for extended periods of time in a number of cities where local ordinances limited anchorage to as little as 48 hours.

Florida Governor Charlie Crist signed H.B. 1423, a general legislative package for the Fish and Wildlife Conservation Commission that includes a provision that prevents local Florida communities from forcing boaters to leave an anchorage unless the boat is a live-aboard vessel. The law specifically defines a live-aboard vessel as one that is used solely as a residence and not for navigation; one represented as a place of business; and/or one that is declared to be a domicile. The new law also prohibits local governments from regulating anchorage outside of established mooring fields unless the boat is a live-aboard vessel.
Many marine organizations have advocated for clarification within the law since 2006, when Miami Beach set an anchorage limit of seven days within any 30 day period. Ft. Lauderdale, Daytona Beach, Gulfport, Marco Island and other coastal communities soon enacted similar restrictions, with the most restrictive law being a 24-hour window for boaters anchoring in Ft. Lauderdale. "This law will not only have a positive impact on boaters in the area, but generate revenue for local businesses by allowing boaters more freedom to anchor," said David Dickerson, NMMA director of state government relations. "We are encouraged by this law's effort to make Florida more boater-friendly than ever."

Great Places To Anchor Out
Miami - Across from Baker's Haulover Inlet in front of Florida International University; in front of Watson Island, by the cruise ships at the port; the anchorage in Boca Chica Harbor or pick up a free mooring on the bayside by Sand's Cut.

Palm Beach County - Peanut Island across from Lake Worth Inlet.

Charts
Technology has caught up with charts & maps and many can now be downloaded. Always have the latest version, as shoals, wrecks and other navigational influences can cause changes.

Captain's License
Thinking of becoming a charter captain or running a water taxi? You'll need a license from the United States Coast Guard which can be obtained from many schools and organizations that offer maritime training & education in Florida.

Paying for Your Boat
If you plan to finance your vessel, you'll need a down payment of roughly 10% - 20%, but often there are programs available through various manufacturers that could allow you to qualify for less, or zero-down on new boat specials. If you choose to get financing through a marine lender, you can usually get longer terms on boat loans than local banks and credit unions and your monthly payments are likely to be much lower than you have expected.

Ownership Alternatives
There are several alternatives to owning your own boat; including Boat Renting & Leasing, and Charters. Yacht charters are obviously going to be far more expensive that renting a boat for an afternoon outing, but if you are considering chartering the yacht of your getaway dreams, keep these tips in mind:
Use a professional Yacht Broker

Ask about special foods and provisions

Budget: Charter costs are not all inclusive. Ask about fuel, gratuities and extra activities.

Number in your party: The maximum number of charter guests allowed by law is 12.

Activities: Ask if there will be equipment for snorkeling, scuba diving, kayaking, etc. Different yachts often specialize in different pastimes.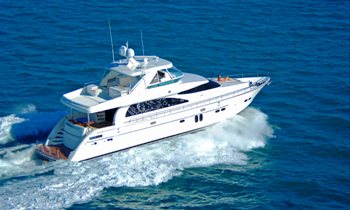 Florida's Ports
Port of Pensacola
Port of Panama City
Port St Joe
Port of Tampa
Port of St Petersburg
Port Manatee
Port of Key West
Port of Miami
Port Everglades (Ft Lauderdale)
Port of Palm Beach
Port of Ft Pierce
Port Canaveral
Port of Jacksonville
Port Fernandina

Special Interest Phone Numbers
Boat Documentation
National Vessel Documentation Center 800-799-8362
Search Documentation and Registration Companies

Vessel Licensing
305-536-6549

Department of Business & Professional Regulation
Yacht Broker Licensing and Regulation: 850-487-1122

Donate your boat. Get a tax deduction. Chapman School of Seamanship.

United States Customs
When you return from boating in a foreign country, you must obtain clearance before anyone on the vessel can disembark. Since 9/11, these rules have been strictly enforced and not following the procedures can be costly. Use the numbers below to call from any marina or private dock and have your boat registration number available.
Small Vessel Reporting Number
800-432-1216
Alternate Number
800-451-0393

Florida Inlets
Banana River South Inlet
Big Sarasota Pass Inlet
Boca Raton Inlet
South Lake Worth/Boynton Beach Inlet
Port Canaveral Inlet
Fort Pierce Inlet
Government Cut (Miami)
Hillsboro Inlet
Jupiter Inlet
Lake Worth (Palm Beach) Inlet
Longboat Pass Inlet
Matanzas Inlet Ponce de Leon Inlet
Port Everglades (Ft Lauderdale Inlet)
Sebastian Inlet
St. Augustine Inlet St. Lucie Inlet



A clean marina is a happy marina! When choosing a marina in Florida, smart boaters look for the Clean Marina flag at marinas that have passed Florida's requirements for the Clean Marina designation.

Burial at Sea
When conducting a burial at sea, the direction of the wind is of utmost importance. Make sure the ashes will scatter off the stern properly to avoid obvious embarrassment. Tradition calls for the vessel to fly it's flag at half mast, and the following prayer may be used: "Unto Almighty God we commend the soul of our (brother) (sister) departed, and we commit (his) (her) body to the deep; in sure and certain hope of the resurrection unto eternal life." At the words "commit (his) (her) body to the deep," the person holding the cremated remains then scatters them off the stern of the vessel.

Living Aboard
Chapter 327.02(16), Florida Statues, narrowly defines "live-aboard vessel" as "any vessel used solely as a residence," or "any vessel represented as a place of business, a professional or other commercial enterprise, or a legal residence." In Florida, "[a] legal residence is the place where a persona has a fixed abode with the present intention of making it their permanent home." See our section on houseboats, or contact a boat dealer for where to buy.

Can't find what you're looking for here? Please contact us and we'll help you find it!