Freshwater Fishing Tips

Here's How to Catch the Big Ones!
The largemouth bass is the best known and most popular freshwater game fish in Florida. Found statewide, largemouth bass have excellent growth rates, particularly in the productive waters of central Florida. Historically known for huge bass, Florida remains an outstanding destination to catch a trophy.
Spring is the best time of year to catch bass, when fish move into shallow water to spawn. Spawning may occur as early as January in extreme south Florida and as late as May in the panhandle, but March and April are peak months. Most large bass are taken at this time; after spawning, many large females move to offshore areas.
The best live bait is a golden shiner, fished under a float or free-lined. Typically, the shiner is hooked through the lips or back with a large hook, 2/0 to 5/0. A medium to medium-heavy rod with 14- to 20-pound test line is preferred, particularly when fishing in areas with thick vegetation or cover.
The plastic worm is the most dependable artificial bait for largemouth bass. A weedless "Texas- or Carolina-rigged" worm is effective for fishing Florida lakes with heavy plant cover. Worms come in a variety of colors and scents, and bass may favor certain types depending on light conditions; be sure to have both light and dark colors available, as well as several sizes of tapered worm weights from 1/8 to ounce. Purple "metalflake" or "red shad" worms with twirly-tails are popular, and plastic lizards can be effective as well.
Most plastic worms are worked slowly along the bottom or through cover by raising the rod tip a few feet, then allowing the worm to sink. The line should be kept fairly tight to feel the strike. Typically an angler will feel the bass "tap" the worm once or twice lightly. By lowering the rod tip and waiting only until the slack is out of the line before setting the hook, anglers greatly lessen the chance of injury to the fish due to deep hooking.
With active bass and dense underwater vegetation, "jerk worms" are an excellent bait. Rigged without sinkers, these worms are jigged rapidly over vegetation, with brief pauses to let the worm sink slowly. Bass hit these baits hard, and an instant hookset is recommended.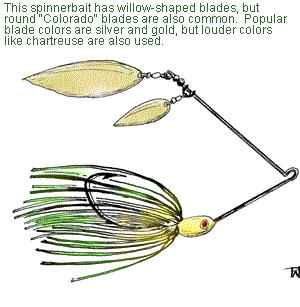 Spinnerbaits are very good in the spring, usually fished slowly around drop-offs and cover. If a slow retrieve fails, try "buzzing", i.e., retrieving the spinnerbait rapidly so the blades ripple the surface.
Crankbaits typically imitate baitfish or crayfish, and a straight retrieve is usually effective. The design of the plastic lip determines how deep the lure dives, and anglers can adjust their choice of baits based on water depth. Popular colors are white, shad, firetiger (green striped with orange underside) and crayfish.
Topwater baits are exciting to fish because the angler can see the strike. Topwater plugs that imitate wounded baitfish may be twitched to entice bass. Others are designed to make noise, and a faster, erratic retrieve may antagonize a bass into striking. Topwater lures are most successful during early morning or late afternoon. Stay ready for a surprise strike and set the hook immediately.
Although the largemouth bass is by far our most common black bass, other species are found in Florida. The smaller Suwannee bass occurs in the Suwannee River and its tributaries, and in the Ochlockonee River. Favoring rock outcrops and moving water, Suwannee bass prefer crayfish to many prey items of largemouth. Crayfish-imitating crankbaits worked through deep-water bends will attract these hard fighting fish, as will plastic worms, plastic lizards or crayfish. The Santa Fe River is another good spot, and trophy-sized Suwannee bass up to three pounds can be found in the Ochlockonee River north of I-10.
Striped Bass, White Bass and Sunshine Bass
Striped bass are found primarily in the Apalachicola and the St. Johns rivers and their tributaries, and to a lesser extent in Lake Talquin and the Ochlockonee, Blackwater, Nassau and St. Marys rivers. Striped bass need long stretches of flowing water to reproduce successfully, and these conditions are rarely found in Florida. Stripers do not tolerate water temperatures over 75oF for long; during Florida summers, striped bass become less active and must find cool water springs or canopied streams to survive. Because of this, striped bass populations are maintained only through annual stockings from Commission and federal hatcheries.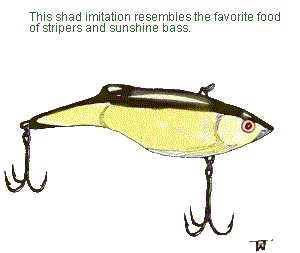 The best striper fishing occurs from fall through spring, when fish are actively feeding. Live shad are very effective, particularly below Jim Woodruff Dam on the Apalachicola River. Stripers may weigh up to 60 pounds; use heavy tackle with 3- to 4-oz. weights in high flow areas. In the St. Johns River, the Croaker Hole and the jetties at the south end of Lake George are good fall and spring striper areas, and the first few miles of the Wekiva River have several locations where stripers congregate. Live menhaden, golden shiners, croakers or eels are good choices as bait. Lures, like rattletraps, that resemble baitfish also produce impressive strikes, including heavy jigs, as well as sinking and floating lures in white, chrome or chartreuse.
White bass are found in the Apalachicola River, Ochlockonee River and Lake Talquin. In the same family as stripers, white bass seldom exceed four pounds, with one- to two-pound fish more common. The best white bass fishing occurs in the spring, when fish move upriver to spawn. Small crayfish or grass shrimp on #4 hooks fished in deep river bends or at the edge of sand bars are effective baits. Put a 1/4 oz. egg sinker above your swivel, with an 8- to 12-inch leader tied to your hook; use lighter line for the leader, so if you get snagged you don't have to replace the complete rig. Small jigs in white or brown are often productive.
The sunshine bass, a hybrid of striped bass and white bass, is artificially spawned at Commission hatcheries. Hybrids are stocked in lakes with an abundance of gizzard and threadfin shad. Sunshine bass are also stocked together with stripers in some river systems, and some of the best fishing is found in the Apalachicola and St. Johns rivers. The mouth of the Escambia River near Pensacola has good hybrid fishing, and sunshine bass feed around the fish attractors in Newnan's Lake near Gainesville. Live bait, including shad, grass shrimp and crayfish are especially effective, but jigs, spoons and imitation-minnow plugs also produce. In urban lakes, shrimp, squid and even cut-up pieces of hot dogs will attract sunshine bass. Sunshine bass readily concentrate around mechanical feeders that periodically dispense food pellets.
Catfish
Catfish may be one of the staples for anglers who enjoy eating their catch. Channel catfish are abundant throughout Florida, spawning in holes and crevices in flowing water. Channel catfish may exceed 40 pounds, although the typical size is less than five pounds. White catfish, yellow bullheads and brown bullheads usually range from one to two pounds, and readily spawn in lakes and ponds where they also provide good fishing. Most catfish prefer many of the same food items as bream, although they are opportunistic and will rarely pass up any meal. The "whiskers" are loaded with sensory cells that enable catfish to locate their food by smell. Take advantage of this by using baits with strong odors: chicken liver or gizzards, shrimp, cut mullet and commercial stinkbaits. Other baits work well too, especially earthworms, and occasionally freshwater clams. Many catfish become active just before dusk and at night, and fishing success is best during these times. Fish on the bottom with a sturdy #2 to #4 hook and a heavy split shot sinker. Catfish spines may cause a painful injury, and anglers should take care when handling these fish. The Commissions Richloam Hatchery produces 200,000 - 300,000 channel catfish annually for stocking in urban lakes.

Butterfly Peacock Bass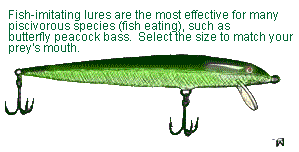 More than 300 miles of urban canals in Dade and Broward counties have fishable populations of butterfly peacock bass, an introduced species that reaches nine pounds. Butterfly peacocks prefer live fish or fish-imitating lures, rather than plastic worms commonly used for largemouth bass. The best bait for butterfly peacocks is live shiners, but artificial lures also work well, including topwater plugs, jigs and crankbaits. Light spinning tackle is recommended in canals for this open-water fighter. Intersections, dead ends and fallen trees concentrate butterfly peacocks. Shade provided by bridges, culverts, vegetation, and other structures provide some of the most productive spots. Butterfly peacocks are caught only during daylight hours, as they do not feed at night.
Panfish
A variety of panfish, or bream as they are popularly known, are available throughout Florida. Bluegill, the most common panfish, thrives in lakes and ponds, but good populations are found in rivers, particularly below dams. Bluegill eat mostly insects and their larvae, but worms are the best bait, either fished on the bottom or suspended below a float. Bluegill spawn throughout the summer, congregating in large "beds". Anglers may find 30 - 40 shallow nest holes scooped out in shallow areas. Crickets, grubs, sand maggots or grass shrimp will all catch bedding bluegill. Use a small hook, #6 or #8, with a split shot sinker about six inches up the line, and concentrate on water less than six feet deep. For artificial baits, a 1/8-oz. "beetle spin" with a white or chartreuse body on ultralight tackle is an excellent choice.
The redear sunfish, or shellcracker, is another popular panfish. Although they prefer snails and clams, redear sunfish are caught most often on earthworms around the full moons of March and April when their spawning activity peaks. Redear prefer hard bottom, congregating in deeper water than bluegill. Shellcracker grow larger than bluegill, with fish over 1 pound common.
Redbreast sunfish, also known as river bream and redbellies, are the flowing water cousins of bluegill. Redbellies are more common in rivers than bluegill, and often can be found in backwater areas with less flow. The same live baits that work for bluegill will also catch redbreast sunfish.
The spotted sunfish, or stumpknocker, is an often overlooked stream panfish. Aptly named, the stumpknocker can be found in the tangle of roots at the waters edge. Although spotted sunfish rarely exceed eight inches, this feisty species provide great sport on light tackle. Tiny (1/16 oz.) beetle spins pitched close to the shoreline can be deadly, particularly tipped with freshwater clam meat. The lower Suwannee River is one of the best spots for this sportfish.
Black crappie, known locally as speckled perch or specks, are a cool weather favorite in Florida. Crappie weighing up to two pounds are not uncommon. The premier fishing location is Lake Okeechobee, but good crappie fishing can be found throughout the state. Unlike most other panfish, crappie spend much of their time offshore, feeding on small fish. Successful anglers often drift through deeper water, fishing with small minnows or freshwater grass shrimp until they find a school. Try a light wire #4 hook and small split shot below a float. Speck anglers typically use several rods or poles, fishing at different depths until they pinpoint concentrations of fish. Specks move inshore to spawn during the early spring, sometimes gathering in large numbers around heavy cover. Crappie also readily strike artificials; 1/16 oz. to 1/8 oz. feathered or curly-tail jigs in white, yellow, pink and chartreuse are popular. Tipping these jigs with a live minnow makes them even more effective. Night fishing for crappie is an effective technique. Any of the above baits fished near a lantern or floodlight can produce nice stringers. Most crappie fishing occurs in the cooler months, but anglers who fish into the summer do very well, especially at night.