Florida's Salt Marshes

What are salt marshes?
Salt marshes are grassy coastal wetlands rich in marine life. They are also called tidal marshes because they occur in the zone between low and high tides. Salt marsh plants cannot grow where waves are strong but thrive along low-energy coasts. They also occur in estuaries, where fresh water from rivers mixes with sea water, usually behind barrier islands or in bays.
A distinctive feature of salt marshes is the lack of trees. Salt marshes are composed of a variety of plants, mainly rushes, sedges, and grasses. Florida's dominant salt-marsh species are needle rush, the grayish-green, pointed rush occurring where tides reach higher levels; and smooth cordgrass found in lower areas that are inundated daily. Other locally abundant species include succulents such as saltwort, glasswort, and sea purselance; sedges such as sawgrass and finge-rush; and other grasses such as marsh-hay, key grass, and salt jointgrass. Giant leather ferns is also locally abundant.
Salt marshes are important for many reasons. Hidden within the tangle of salt-marsh plants are animals in various stages of life. Animals hide from predators in marsh vegetation because the shallow, brackish area physically excludes larger fish. Many of Florida's popular marine-fisheries species spend the early parts of their lives protected in salt marshes.
Young fish often have a varied diet, foraging for food in the mud of the marsh bottom, on the plants themselves, and on smaller organisms that dwell in the marsh system. After salt-marsh plants die, they become detritus, a product of decomposition by microorganisms. Detritus is food for many small animals. Tidal waters move up into the marsh and then retreat, carrying and distributing detritus throughout the estuary.
Some text provided by the Florida Fish & Wildlife Conservation Commission and the Florida Marine Research Institute.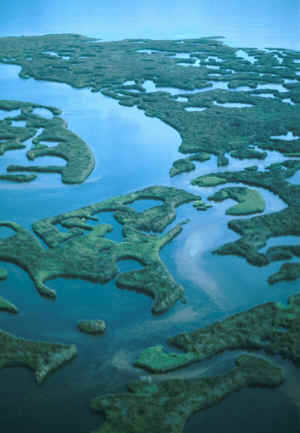 Saving Florida's Salt Marshes
State regulations have been enacted to protect Florida's salt marshes and other coastal communities. Specifically, the Warren B. Henderson Wetlands Act of 1984 established clear guidelines for defining wetlands under state jurisdiction. All dredging and filling activities in state waters require permits unless specifically exempted. Local laws vary, so be sure to check with officials before taking any action.