Florida Surfing

There's Great Surfing in Florida
Swimming is as natural as breathing to some Floridians and the Atlantic Ocean provides the best waves for Florida's own surfing beaches.
One of the best surfing spots on Florida's east coast is Sebastian Inlet. This area has been popular with the surfing community since the 1960's. One spot in particular, the southern shores on Orchid Island, is especially well-known. You can rent boards here, and there are many surfing competitions on the weekends.
Sebastian Inlet State Recreation Area
At the end of Ocean Avenue on Melbourne Beach there is a short-term parking lot with volleyball courts. This is the area's main break and also features a pavilion and second parking area with no meters.
Monster Hole is also a hot spot, when the surf is big. Monster Hole is located about 1/3 mile off the beach, on the south side of Sebastian Inlet.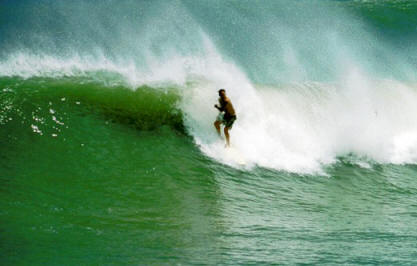 Photo by Scott Richardson, Jupiter Surf

Cocoa Beach is also a local surfing favorite. Also known as the Space Coast, this is the east coast's surfing capitol. Visit the piers for surfing festivals, bikini contests and beer drinking competitions. Need a new board? Cocoa Beach is home to the world famous Ron Jon Surf Shop where you can rent a board or browse the huge t-shirt and water sports equipment selection.

The main swell season in winter from November to March gets the swells from North Atlantic low pressures, generating surf from anywhere between 1-10ft.