Florida Sailing


Choosing the Right Type of Sailboat
When choosing your boat, ask yourself, "What attracts my family and me to sailing? What do we want to get out of sailing?"

"Off-The-Beach" - a small boat that can be thrown on the top of your car and carried down to the beach. It's a simple and inexpensive way to practice your sailing skills, or if you choose a high-performance boat, to experience the buzz of riding waves or the thrill of planning.

"Daysailor" - Boats in this free-form category range from the cutting-edge to the traditional (centerboarders, keelboats, or trimarans). This boat can be used for a family picnic, or if the weather is right, an overnighter. To be a successful skipper of this vessel, you should know the basics of sail trim, the points of sail, the right-of-way rules, the fundamentals of anchoring, docking, and navigation and the basics of weather.

"Coastal Cruiser" - Either a keelboat or a multihull, should include berths and a galley, head and dining area, auxiliary power, and the ability, via reefing systems, to get its crew safely through windy conditions. In addition to having intermediate sailing skills, you'll need maintenance and fix-it skills appropriate to the equipment and systems on your boat. This is the right choice for you if you want a boat for vacations or coastal explorations, or you want to move up to a bluewater cruiser or a flat-out racer some day.

Strictly Sail-Miami


The sail-only portion of the Miami International Boat Show is held each year at Miamarina at Bayside Marketplace. More than 225 exhibitors from around the world will display the latest sailboats, accessories and charter information at the unique in-water and dockside show located on Miami's Biscayne Bay. Show highlights will include seminars led by champion sailors, test sails on exhibiting crafts, a "Learn to Sail" program for beginners and special activities for family enjoyment. The Bayside location will complement the excitement of the show and offer visitors an unlimited selection of shopping, entertainment and dining options.

Key West Race Week
Key West Race Week, held in January, continues to attract the world's top sailors in one-design, INS and PHRF fleets. Over 250 boats compete each year.

Tips For Safe Sailing
Stay off the water during storms or periods of high winds.
Remember that the mast can be a conductor of lighting.
Carry a flashlight in case you remain on the water after dark. shine the light on a sail to warn approaching boats of your presence if you have no navigation lights or if it appears that another boat does not see your navigation lights.
Remember that sailboats with an engine must have the red, green, and white navigation lights.
Be aware of mast clearance when passing under power lines and bridges.
SORC
The SORC (Southern Ocean Racing Conference) is held in February off Key Biscayne in Miami, although ocean legs are no longer a part of this event. There are also year-round dinghy and shoal-draft sail boat races held throughout the year, most of them in Biscayne Bay in Miami. These events include Optimists, Lasers, J-24's, Shields, Stars, Lightnings, Etchells, Hobie-Cats and Windsurfers.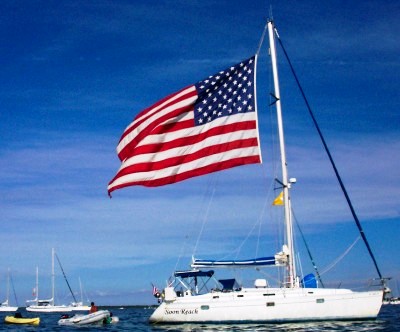 Know Your Sailboat

Use of the wind is one of the oldest forms of powering a boat. Sailboats range in size and complexity, but all have basically the same four components:
The hull carries the passengers and supports the rigging.
The rigging includes many parts of the sailboat such as the lines (sheets and halyards), mainsail, headsail (jib), boom and mast.
The keel or centerboard is attached to the bottom of the hull and keeps the boat from sliding sideways through the water.
The rudder is used to steer the sailboat, turned by a tiller or steering wheel.
Sailing Safety
It is always wise to give sailboats a lot of space. Sailboats are usually the stand-on boat. Exceptions occur when:
The sailboat is overtaking another boat.
Another boat is restricted in its ability to maneuver, for example a boat at anchor.
The sailboat is under power.
Sailing has its own risks that you need to take special care to avoid:
Small sailboats are prone to capsizing and swamping. Be prepared for these common situations. Know how to right the boat if it capsizes and carry a bailer onboard.
Falling over board can be common. For that reason sailors should always wear their PFDs and carry all the necessary safety equipment and clothing.
Sailors also should remain very aware of the water temperature. Capsizing in the early spring, fall or winter involves the risk of hypothermia. Life boats and rafts should be considered for offshore excursions.
Those interested in sailing should take a certified course from organizations like the American Sailing Association, the U.S. Sailing Association, and the Red Cross. Search for Sailing Instructions.